Drag and drop tasks (within the note, into calendar/timeline/other notes)
in progress
✅ Drag and drop paragraphs on the same note to move them up/down and reorder (select also multiple paragraphs).
✅ Drag backlinks into the note.
✅ Drag into a calendar day to move the task to another day.
✅ Drag into a note in the sidebar
◻️ Drag from Review into the calendar to assign a date and time.
◻️ Drag tasks from the note into the timeline to automatically add a time to the task, so it appears on the timeline.
◻️ Drag tasks into the timeline to create an event
✅ Drag tasks into the backlink panel to move them into another linked note.
✅ Dragging on iOS
✅ Enable CMD+Z to undo a drag
◻️ Drag into a note link inside the editor mentioned on Discord
marked this post as
in progress
Merged in a post:
Moving Tasks Up and Down in a List with arrow keys
N
When clicking the
arrow
next to a task in the daily note, I'm wondering if it's possible to add an option to
move
a task up or down in its respective list.
I ask because I'd like to be able to group completed tasks together at the top or bottom of a list - without needing to cut/paste the text and corresponding syntax.
Merged in a post:
Drag 'n drop task onto calendar
Drag 'n drop task onto calendar to move (cut 'n paste) it to the selected day.
Source: Stacey's
Video
at 3:15 min.
Merged in a post:
Drag & Drop Paragraphs
Reordering tasks, folded headings, blocks...
Editorial was an older Markdown app that had a nice UI for this - subtle gray bars in right margin, always there (not modal; I like it better than Craft). BUT, even that would add clutter to the UI.
Instead, maybe just the functionality of dragging blocks via the right side margin (settings option), without the visual indication?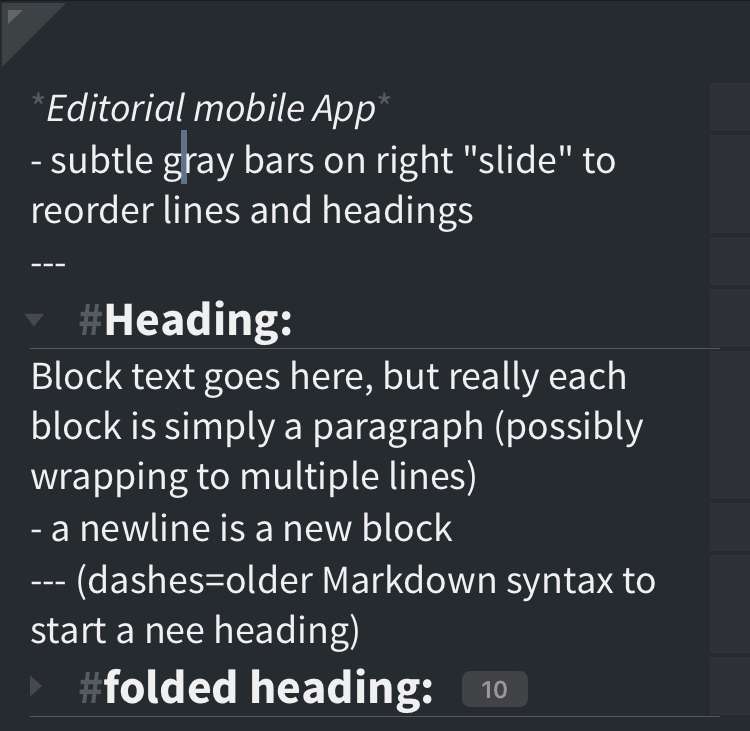 marked this post as
planned